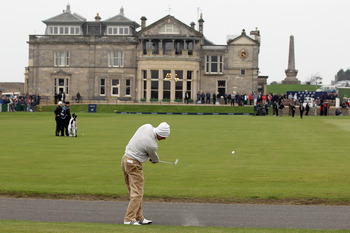 If you had to pick 20 golf courses that stand at least a half inch taller than others in the category, Best in the World, where would you start?
Scotland, Ireland, the US, England, Australia?
That's where most of the world's existing golf courses are.
Many are exceptional, so much so that the competition to get into the top 100 lists is tough. Staying there, even tougher.
Some courses are exceptional because they are breathtakingly beautiful, and they provide a challenge.
The test does not have to be impossible, but it should be interesting, distinctive.
Any golf course can be made impossible simply by the addition of length, and so to use length alone as the barometer of excellence is foolhardy.
Some golf courses lists rely on having green speeds that defy normalcy. With greens that stimp lower, say between nine and 11, like a St. Andrews, are they great or just very good? A good course isn't just about fast greens, it's about strategy. It's about deception. It's the way the land looks, and the way a golfer needs to play it to be successful.
Some courses in our top 20 are now obsolete for the touring professionals because of the changes in equipment, and because, as Jack Nicklaus has insisted for the last 25 years, the ball goes too far.
That doesn't mean they aren't fabulous courses. It just means the pros need to dust off some persimmon and a few old balata balls to play them the way they were meant to be played. Because most amateurs do not have professional length, the same courses are still the same tough test for most of us.
Some courses are modern, yet look like they were invented right along with the golf itself.
Some are nearly as old as the game. Most of these, if not personally viewed, come at the recommendation of an expert in golf, often a noted player.
Some are left out, so this is with apologies to the many—particularly in Scotland, Ireland, Australia and the US—that are no doubt equal to many mentioned here.
This collection will surprise some and please others.
You'll see several designers mentioned often: Alister Mackenzie, Charles Blair Macdonald, Pete Dye and Jack Nicklaus.
And now the courses, by age.